WOOLSAFE WOOL CARPET CLEANING SPECIALISTS.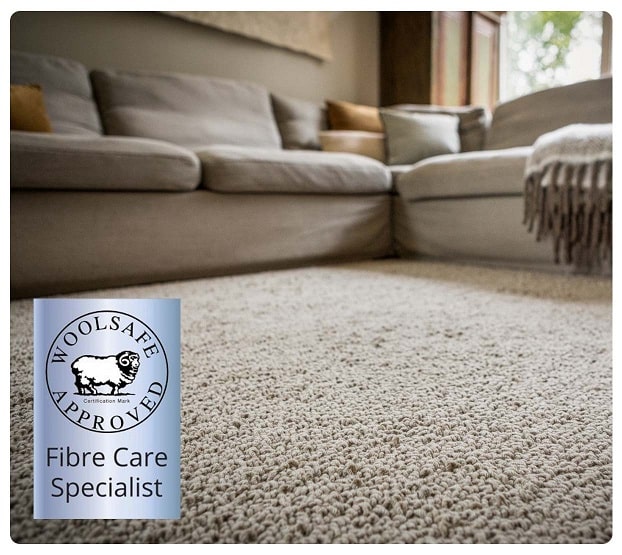 Two important points should be taken in consideration in order to prolong the life of your wool carpet. One of them is regular vacuuming. More importantly, appropriate and regular professional carpet cleaning.
Zoran, owner and primary technician at Steam Or Dry is a 'Woolsafe' accredited wool carpet cleaning Perth specialist. The quality of our workmanship is achieved through continuous education and extensive hands-on experience when it comes to professional residential carpet cleaning or commercial carpet cleaning.
If your carpet is constructed from natural fibre such as wool and if you require the best possible wool carpet cleaning service in Perth, get in touch with us today.
WOOL CARPET STAIN REMOVAL & OTHER SERVICES.
Understanding basic chemistry is pivotal when it comes to carpet stain removal. Some spots and stains on woolen carpets are easy to rectify, some on the other hand need a professionals touch. Unfortunately, in some cases stains are irreversible. Here is a list of problems and stains that we often deal with and successfully rectify.
PREMIUM WOOL CARPET MAINTENANCE.
Generally speaking maintenance and cleaning of wool carpets as opposed to synthetic carpet fibre requires more effort and more time in order to achieve desired, longer lasting results.
Education and a solid amount of hands-on experience also plays a vital part so to avoid costly mistakes such as cellulosic browning.
Wool carpets are best cleaned by applying 'Hot Water Extraction', commonly known as 'Carpet Steam Cleaning'. In some circumstances carpet dry cleaning, a low moisture cleaning method is also an acceptable way to clean carpets constructed from wool fibre.